Main content starts here, tab to start navigating
Our History
Let's begin from.... well... the beginning!
The concrete and limestone walls began to take shape in 1913 and wouldn't be completed until 1930 for the original home of Immanuel Trinity Evangelical Lutheran Church after Trinity English Lutheran Church and Immanuel German Lutheran Church merged creating the congregation.
This large church building has a steeply-pitched gable roof with parapets. There are numerous Gothic-arched openings punctuating the walls and on the front wall these openings are very large and filled with decorative stained glass. They are filled with stained glass on the side walls as well. The main entrance consists of three Gothic-arched entry doors accented with a stone frontispiece.
Efforts were made to utilize local materials, as well as local labor. Less the Indiana limestone trim, the majority of the exterior limestone was quarried just a few miles south of Fond du Lac. On the interior, most of the elaborate wood carving that can still be seen today was done by artisans at the Rosenthal Woodworking Company in Fond du Lac.
Then in 2002 the congregation voted in favor of building a new church in at a different site. Fast forward about 8 years and local developers, Commonwealth Development, purchased the property and began renovations to open Trinity Restaurant and Banquet Hall.
While there have been a couple of tenants in this vast building over the years, Cellar District proudly entered through the doors in July of 2021. The interior was cold had been left vacant for over 6 months. Although temperatures were in the 90's outside, inside winter jackets and hats would be worn during construction as The Cellar District began to take shape!
Grand opening came quickly on October 5th of 2021 with a positive following from the FDL community. Since then Brandee and Sarah have served people from all over the world (which can be seen on the chalkboards in the front) and look forward to providing FDL with a unique, family friendly spot.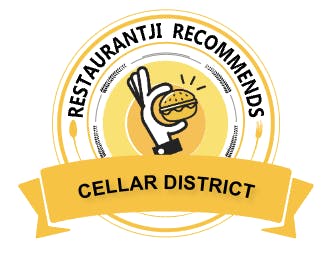 About the Owners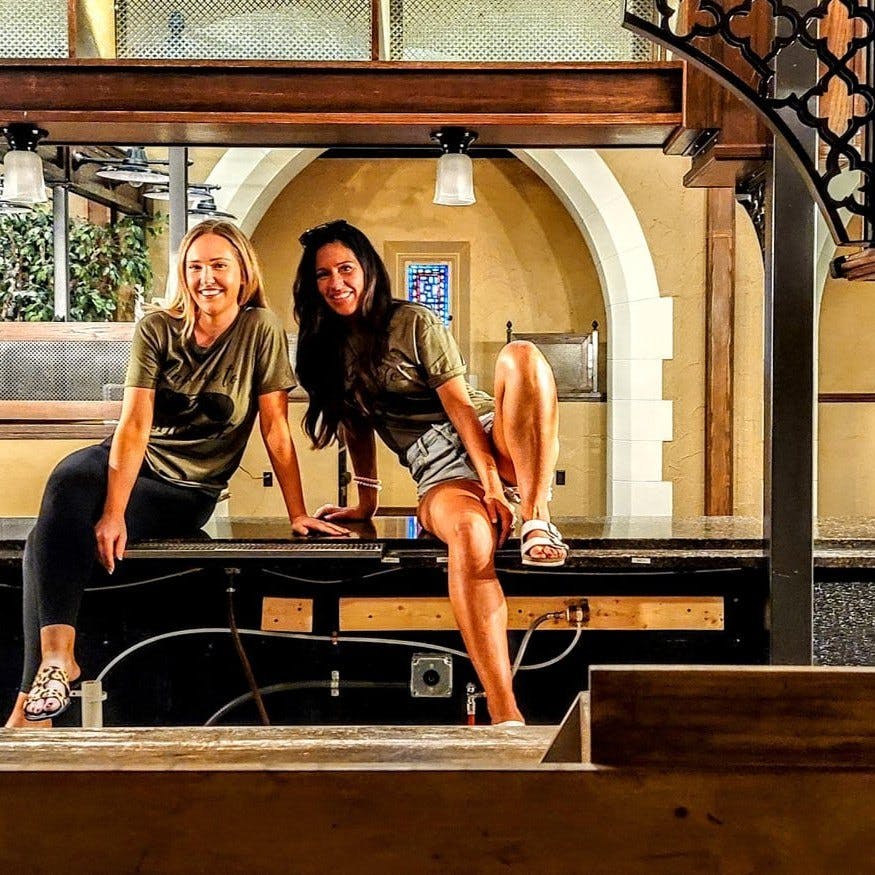 Brandee worked at Coliseum from the beginning! She sat lonely with only the Owner (Peter) and a few family members for their first NYE celebration in 2006.
Fast forward a few years and The Coliseum became a staple in downtown FDL. Brandee spearheaded both the additions of the Upperdeck as well as the Annex- but we're getting a bit ahead of ourselves now.
Join us in 2009 when Sarah came into the picture. Brandee hired Sarah as a server and immediately resented her sarcastic personality. Oh well.
Brandee and Sarah began working side by side over the years, learning from each other and growing with the Coliseum. Brandee began a beautiful family (twins for her first pregnancy... wow!) and eventually Sarah would take over the Management role.
Brandee and Sarah both left the Coliseum and industry itself for a while. Sarah went to explore various opportunity is Sales and Financing while Brandee got her degree in cosmetology and went into Aesthetics. After a few years of not speaking to each other, they reunited after a simple conversation of "I thought you were mad at me" vs "No, I thought you were mad at me". Communication is key people.
Secretly (for about 2.5 days) they discussed opening a place of their own.
*Update after 2 years of ownership*
Brandee and Sarah still believe communication is key and relay that onto the staff as well.
To be frank, it's not all profit and rainbows but the staff, the owners, and the community make each and every single day worth every part of it.